Animal Bedding
A large stock of wood shavings and equine bedding has been carefully selected to provide a varied selection to suit all preferences. As horse owners we are very aware of the importance of balancing efficiency and economy when making equine bedding choices, we aim to offer the best products at the best prices – frequently enhanced by special promotions.
Shavings and Bedding
Shavings and bedding (inc. vat @20%)
SNOWFLAKE SUPREME WOODSHAVINGS – approx 20kg
£7.50
Pallet Offer (48)
£7.20
COLLECTION OFFER
£7.20
SNOWFLAKE PREMIUM EQUINE WOOD PELLETS – approx 20kg
£6.60
SNOWFLAKE STANDARD – (Premium shaving & Softchip blend) – approx 20kg
£6.75
Pallet offer (48)
£6.45
COLLECTION OFFER
£6.45
SNOWFLAKE SOFT CHIP – approx 22kg
£5.45
HUNTER WOOD SHAVINGS – approx 25kg (small flake)
£9.60
COLLECTION OFFER
£9.30
MEGASPREAD WOOD SHAVINGS – approx 25kg (large flake) – currently N/A
£9.60
COLLECTION OFFER
£9.30
BEDMAX – approx 20kg
£8.18
COLLECTION OFFER
£7.90
COMFYBED PLUS – approx 24kg
£6.80
Pallet Offer (42)
£6.30
COLLECTION OFFER
£6.55
BLISS (EUCALYPTUS/CITRONELLA) (rape straw) – approx 20kg
£8.48
AUBIOSE (hemp)
£10.50
VERDO (wood pellets) – approx 15kg
£5.88
EASYPACK (chopped straw)
£8.62
FRESHBED POULTRY – 100/50 Litre
£11.02 / £7.95
FINA CARD – approx 20kg
£7.43
---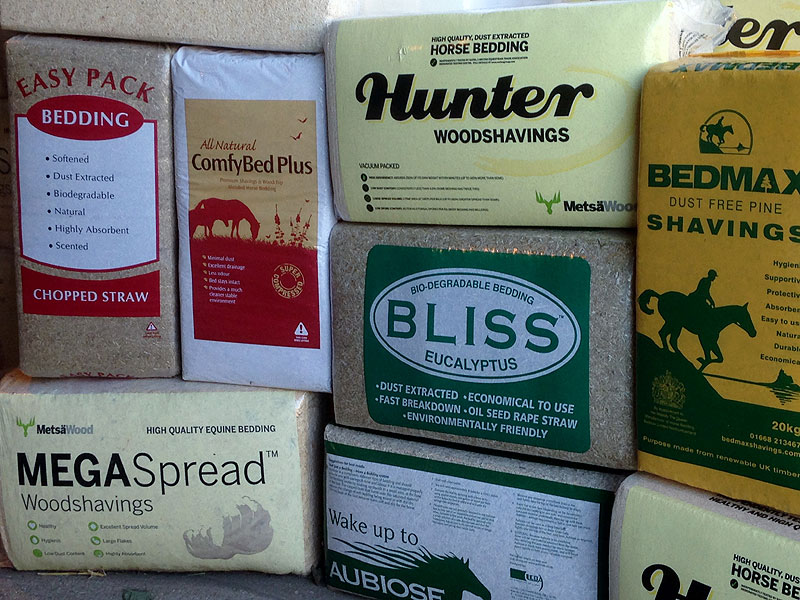 Free Local Delivery on Orders Over £100
Take advantage of even more special collection only offer prices (and selected locally delivered quantity discounts)
The guide price list is subject to availability and should be confirmed when ordering
Over the years we have personally tried and tested many different types and brands of bedding and taken into account customer feedback to assist us provide a choice of what we consider to be the most efficient and cost effective bedding alternatives available.
Each has particular merits which are best described by the manufacturers themselves:-